WFOE has become the most popular option in establishing a company in China for foreign investors. It is a limited liability company set up exclusively by foreign investor's capital.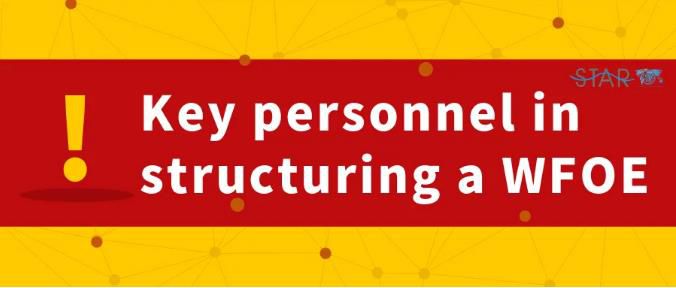 As per the Company Law, the minimum roles involved in registering a WFOE are a Legal Representative and a Supervisor, who could not be the same person. 
The Legal Representative is the person executing the company's decision on behalf of the shareholders, and is liable for all established entity's activities and possess the company stamps – which enables LP to make any legally binding decision in the name of the company.
The supervisor is to supervise the conduct of the Board or Managing Director on behalf of the shareholders. In reality, this role usually bears no direct responsibility or has no actual authority. It is required to have at least one natural person appointed as a supervisor, who could be of any nationality and reside anywhere.
Although the simplest structure of a WFOE has two roles, organizations on the larger operation scales might consider appointing additional positions for segregation of duties and better corporate governance.
At least one shareholder is required during the establishment process, who can be the same as a Legal Representative. This role could be filled with any nationality except for a local Chinese firm.
The WFOE could be under the management of a single managing director or a board of directors (between 3 to 13 individuals). The chairman of the board generally is also the legal Representative. A note worth taking is that there is no requirement for LP's residency.
General Manager is the person overseeing the operational activities of WFOE, who has the authority to sign and stamp agreement with prior approval from LP. As this role monitors the operation closely, although there are no restrictions on nationality nor the position on the board, typically GM is a Chinese individual independent from the board.
STAR Accounting has been assisting foreign investors in China market entry project for 13 years, from registration to subsequent accounting/tax/HR matters. Have a chat with us and see how you could move forward: Nancy@www.star-acc.com.